Where every stay is unique...
With #1 rating on Tripadviser, Yakushima Shikinoyado family-run Hotel and Holiday Home. Private bath, wash room and more in all accommotation.
If you're looking for a unique and personal travel experience while supporting a small family-owned business, our Shikinoyado hotel which also come with fantastic ratings across various booking sites.
Often hidden treasures tucked away among beautiful scenery, family run hotels are worth their weight in gold.
At our independent and family owned hotel you will find comfort in our warm and friendly atmosphere, not to mention the additional homely touches that are so often lacking in many larger hotel chains.
We are a genuine hideaway from all things mainstream, surrounded by nature and we have take your breath away beautiful flowers and plants, because our Onoaida area is the unique exotic subtropical zone of Yakushima island.
We offer a covered deck to see the stunding views of the world heritage site Mt, Mocchomu.
Your YAKUSHIMA adventure begins here.
Wondering what to do in Yakushima?
With endless opportunities for fun, adventure, and relaxation, at Shikinoyado we invite you to explore all that Yakushima has to offer!
Discover paradise at the Shikinoyado where recreation play and relaxation combine to create the ideal subtropical zone vacation on beautiful island of Yakushima.
Shikinoyado offers affordable lodging with easy access to adventure, local culture, outstanding views of the mountain and plants, Snorkel at Kurio Beach, hike in Yakusugi-land, swim in our rivers, and explore local villages. Rich Experience.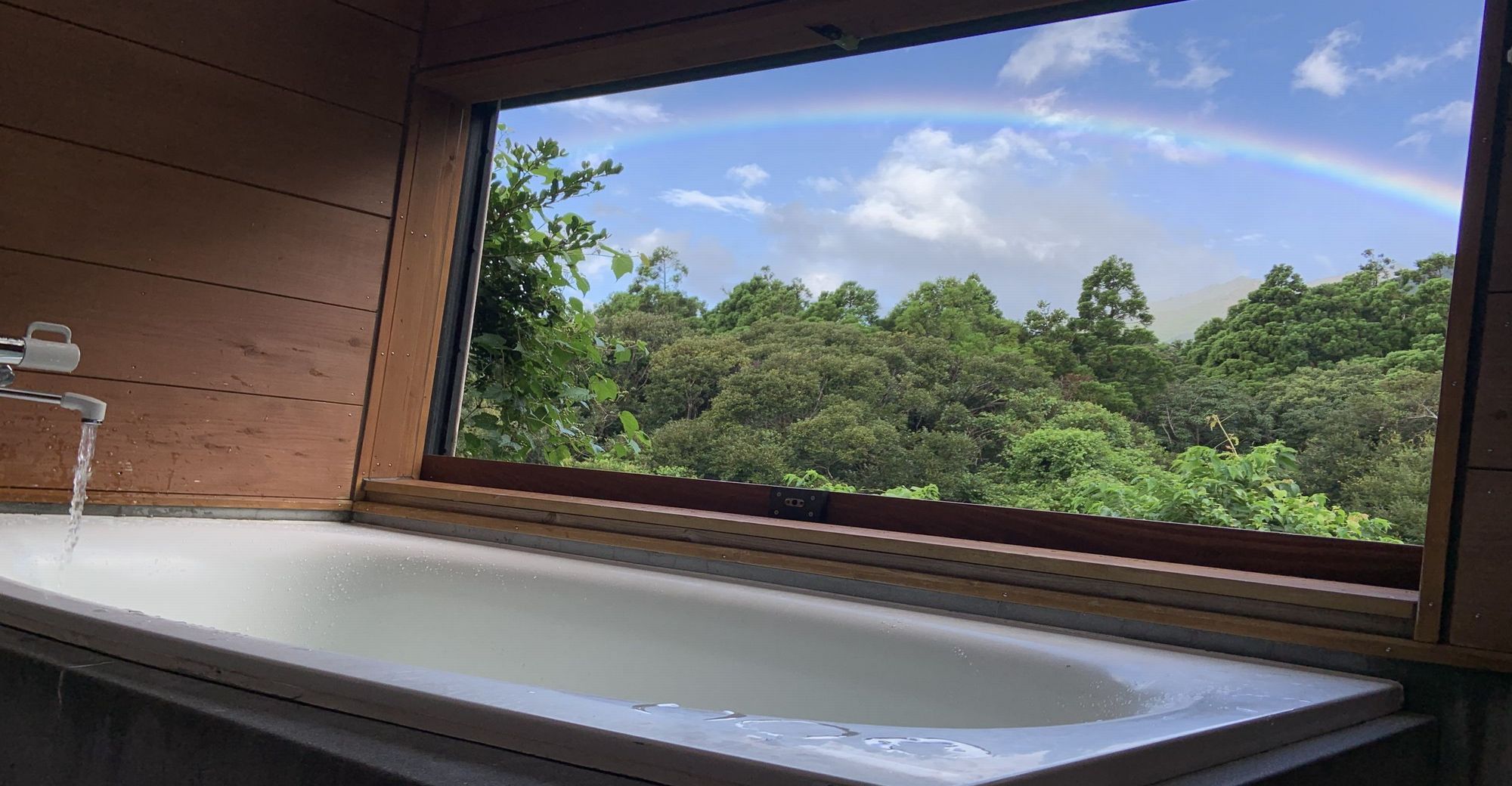 2024 New style

3 kinds of rooms we have

2024 How to operate the new hotel
〇It is resonable rate because not including meals and we have a long-term discount too.
〇You can enjoy your favorite dining style at the
on-site cafe
or eating out instead of the traditional half-board inn.
〇We have a comfortable cafe and It is possible eary check in, so enjoy your leisurely stay.
〇A variety of programs are available for guests only. Such as optional childcare and terrarium making.

Facility Guide

Bath and wash room for all rooms

All rooms are equipped with Wifi
For 4 rooms with open air bath

All rooms with chair on decks

6 rooms with kitchen facilities

Washer-dryer and detergent included
・
Room with open air bth without meals

Price for one person per night when staying for 2 people in one room


1night
7,900
2nights
7,300
3nights
6,700
4nights
6,400
5nights
6,100
6nights
5,800
7nights
5,500
8nights
5,200
9nights
5,000
10nights
4,800
11nights
4,600
12nights
4,400
13nights
4,200
14nights
4,000
more than 15nights
4,000
Room with kitchen without meals

Price for one person per night when staying for 2 people in one room

1night
8,900
2nights
8,200
3nights
7,500
4nights
7,100
5nights
6,800
6nights
6,500
7nights
6,200
8nights
5,900
9nights
5,700
10nights
5,500
11nights
5,300
12nights
5,100
13nights泊
4,900
14nights
4,700
more than 15nights
4,600
1 person 1 room=50%+
3 people 1 room=20%off for 3 people
4 people 1 room=25%off for 4 people
5 people 1 room=30%off for 5 people
10%~20%+ for Peak season(Long week end or holiday)
We have some requirements and Minimum length of stay or etc, during Golden week or mid of Aug.

Please ask if you want to stay more than 4 weeks. We have some long term discount(160,000 for 2 people/200.000 for 3 people/240.000 for 4 people etc)

If the cuset changes, the fee will be calculated crom the first night.
It is not possible to take over for someone else.
7 years or more kid are included in the number.
Room cleaning during your stay is 2000yen Fresh towel will be 300 yen per set
Roomwear and toothbrushes will be charged, so please bring your own.
Meals are not included in the inn, but there is a cafe on site, so please make a reservation in advance.

Excllusive options for guests

Last up date 2023/11/15

Yakushima Hotel Shikinoyado
〒891-4404
642-15 Onoaida Yakushima Kagoshima
TEL 0997-47-3377
(07:00~21:00)
shikinoyado@gmail.com